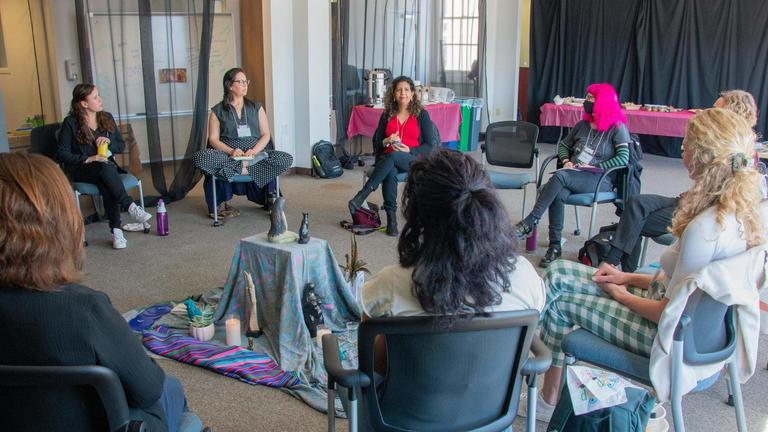 Faculty Development & Resources
CIIS' Faculty Development program supports faculty of all appointment types: full and part time. Through ongoing programs, events, consultations, faculty groups, and by collaborating with other University offices, we support and promote exceptional teaching.
Training
Digital Support 
To support faculty instruction in hybrid and online courses, the Department of Technology has created a centralized repository of digital teaching tools, software instructions, and on-demand support.  
Faculty Resources 
Training Calendar  (requires CIIS account)
Research and Writing
The Center for Writing Scholarship offers consultations, workshops, and pedagogical support to any faculty member, whether they are seeking quick editorial assistance or more sustained collaboration to develop their academic writing skills.  
Meet with CWS (requires CIIS account)
Image
The Laurance S. Rockefeller Library is dedicated to meeting the research and teaching needs of CIIS faculty and their students. Librarians are available to give online or in-person library orientations to faculty and/or students, and can come into classrooms to provide course or assignment-specific instruction, teach information literacy and research skills, and demonstrate database best practices. Dedicated library liaisons are attached to each program to assist with selecting and providing course materials, copyright questions, and much more.  
Learn more
Rockefeller Library also provides synchronous and asynchronous trainings for all members of the CIIS community on a variety of topics, including citation management, database training, and research tips.   
See Library Resources
Committees & Chairs
CIIS provides the opportunity to faculty to serve on a range of committees that oversee the governance, scholarship, teaching, and many other aspects of faculty life. These leadership roles are crucial to the University's pedagogical and scholarly excellence, and continue to shape the current and future character of CIIS. Learn more about individual committees on our ShareSite (requires CIIS account).
Faculty may also be selected to serve as program chairs, for which CIIS offers management training. The University has also created the Emerging Chairs Affinity Group to support continuing development and build community. 
Retreats & Awards
All faculty, including adjunct faculty, are eligible to receive annual professional development funds from the Provost's office in addition to their program and department funds. These funds are available to support activities such as attendance at national or international conferences, in-person trainings, and more.
In order to support educational prominence, the Office of the Provost has created the Kathy Littles Core Faculty Writing Retreat Award, given annually to up to seven members of the faculty pursuing scholarly writing projects, especially with regard to diversity, equity, inclusion, and belonging for historically marginalized populations. The five-day retreat includes meals, lodging, and travel, and provides a quiet space to develop current or planned projects. 
Guidelines
All faculty guidelines – including the Faculty Handbook, Assessment Guidelines, and Course Catalog – can be found on our ShareSite (requires CIIS account).