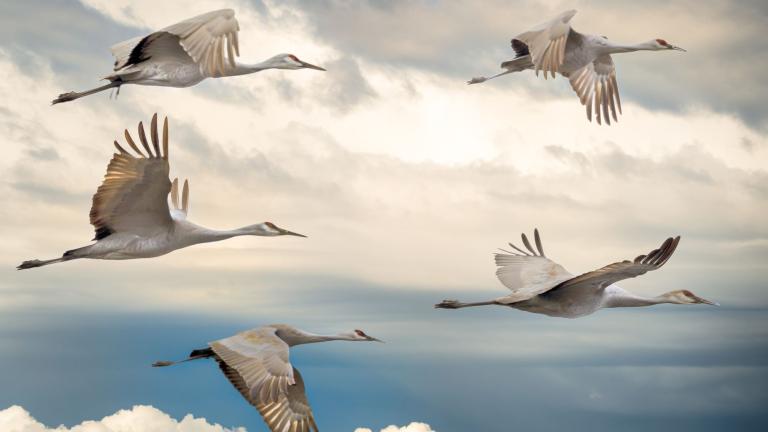 Welcome! We are glad you have found us and hope to have you join our growing international community at CIIS.
The CIIS community includes undergraduate and graduate students from all over the world. In Fall 2022, international students comprised 8-10% of the CIIS student population representing 43 countries. They contribute to the diversity and vibrancy of the CIIS community and are an integral part of the University's academic and social life.
CIIS gives careful consideration of contextual information in the case of international students, particularly their cultural and global perspectives. The Office of Admissions acknowledges that students who live abroad may have educational experiences that differ from their peers who studied in the United States and we recognize this important factor as we review applications.
The Admissions Team is available to assist with the student visa process, and can help you prepare to study in the United States. CIIS assists admitted degree-seeking students in eligible programs with the application for the F-1 student visa.
Requirements
Each degree program at CIIS has specific application requirements. The final pages of the admissions application outline the specific requirements for each program. If you need further clarification about the materials requested, please contact the admissions counselor for the specific program to which you are applying.
In addition to the general application requirements, international students are asked to submit the following:
U.S. immigration regulations require that international students who apply for an F-1 visa provide proof of financial support for their first year of tuition and living expenses. In addition, international students must enroll in full-time coursework. As a result, international students must carefully plan their academic careers at CIIS.

International students in other visa statuses and all self-identified international students regardless of citizenship status are also welcome use services offered through International Student Services.

If you have any questions about your status, or will require changing your visa status in the U.S. to the F-1 visa, please contact our International Student Advisor.

 

For students with an international academic history, please follow these steps for your foreign credential evaluation (i.e. WES – World Education Services):

Please provide your complete and entire academic history on the application form.
For required degrees earned outside of the United States or Canada, we will need a foreign credential evaluation. You, the applicant, need to initiate and request this, at your own expense, through a CIIS-approved foreign credential evaluation provider.
CIIS favors foreign credential evaluations provided by WES – World Education Services, and specifically the course-by-course-report. CIIS accepts the WES 'Basic' report, but applicants may wish to complete the 'ICAP'.
CIIS will also accept foreign credential evaluations that are in a comprehensive course-by-course format from the current members of the National Association of Credential Evaluation Services (NACES).
The foreign credential evaluation is used in lieu of sending original transcripts from abroad to CIIS. Original or notarized copies of the transcripts should only be sent to the foreign credential provider, per the foreign credential provider's instructions; there is no need to send these to CIIS!
When requesting the foreign credential evaluation, choose the appropriate degrees to be evaluated for the degree that you are applying for. If applying for a Ph.D. at CIIS, foreign degrees equivalent to a B.A. and M.A. must be evaluated. If applying for an M.A. at CIIS, foreign degrees equivalent to a B.A. must be evaluated.

If you have studied abroad as part of a degree received in the United States or Canada (i.e. transfer credits from abroad), no WES evaluation is needed - provided these units are showing on your US/Canadian degree transcript.

If you wish to receive transfer units for any courses earned outside of the United States that are not showing on a US degree transcript, we do need a foreign credential evaluation for these courses.

 

Applicants for whom English is not their native language are required to submit an English language proficiency score. Exceptions are made for students who have earned their Bachelor of Arts degree from English language universities. Admission to CIIS requires a minimum score for one of the following exams:

TOEFL - 80 test score minimum. TOEFL is an internet-based test. The CIIS TOEFL code is 4807.
IELTS - 6.0 band score minimum

 
Financial Aid
For many international students, finding the resources to fund an education in the United States is a fundamental concern. CIIS has a commitment to assisting international students through our scholarship and campus employment.
There are limited opportunities for you to obtain a private alternative loan. Most U.S. lenders require you to have a U.S. citizen or permanent resident with a valid alien registration card as a co-signer.

 

CIIS offers the Opportunity Scholarship to all international students. This is a need-based scholarship for which the average award ranges from approximately $1,500-$3,000/year for two years. International applicants must submit the scholarship application form by the program's admission deadlines. Learn more about scholarships.

All students will be notified of their award by email from the CIIS Financial Aid Office and the annual award amount can be considered on the Certificate of Funding form required for obtaining the SEVIS form I-20. Recipients must must meet the terms of the scholarship award and pay the balance of tuition and all living expenses throughout the duration of their studies at the University.

In many cases, international students must secure external sources of funding to support their tuition and living expenses.

 

CIIS recognizes the limited scholarship award amounts available to our students. For additional information and other possible scholarship opportunities for international students, please see the list below and the document Financial Aid Resources for International Students.

Please help us to keep this list current by sending links to any informative websites that you have found in your searches. Contact international@ciis.edu.

 
Students in F status must have the third page of their I-20 signed by the International Student Advisor or another Designated School Official at CIIS in order to re-enter the United States. For absences of less than 5 months, the endorsed I-20 is valid for one year from the date of the signature.

Always double-check that both your visa and passport are valid! If you are entering the U.S. as a student with a valid I-20, you need to have an F-1 visa.

 

Except for travel to Canada, Mexico, and adjacent islands for 30 days or less, you will submit the Form I-94 Arrival/Departure Record at departure and receive a new Form I-94 upon re-entering the U.S.

 

Upon your return to the U.S., you must show the following documents to the U.S. Immigration Inspector:

A valid passport with an expiration date at least 6 months beyond your date of entry*
A visa that is valid beyond the date of your return to the U.S.*
A new or currently valid I-20 ID with page 3 endorsed by the International Student Advisor.

*Citizens of Canada are exempt from passport and visa requirements unless entering from outside the Western Hemisphere.

 

You may be required to obtain a visa and immunizations for travel in many countries. For full details, contact the nearest consulate or embassy for each country you plan to visit. Many countries have consulates in San Francisco, and you may check the telephone directory for their addresses and telephone numbers. If there is no local consular office, contact the country's embassy in Washington D.C. to find the location of the consulate responsible for issuing visas to persons residing in the Bay Area. For information on consular offices and travel advisories visit the U.S. State Department website.

 
Deadlines
Priority admissions deadlines for all students and all programs are posted on the Applying to CIIS page. Applications may be accepted after these deadlines, pending availability of space. International students are encouraged to meet priority deadlines due to additional time required for obtaining the student visa. If you have any questions about the timing, please be in touch with the Admissions Counselor for your program of interest.
Frequently Asked Questions
Students need three documents in order to enter the U.S.:

A valid passport (The passport should be valid for at least six months beyond your intended stay in the U.S.)
A certificate of eligibility for an F-1 visa (A SEVIS I-20)
A valid F-1 visa stamp
Your SEVIS fee payment receipt

In addition, we encourage you to carry with you your letter of admission and financial verification documents.

Students from Canada do not need a visa stamp and will receive authorization to enter and study at the Point of Entry.

 

The certificate of eligibility for F-1 student status (I-20) is issued by the International Students Advisor. Your I-20 will be issued once you have been admitted into a program of study at CIIS and submitted an enrollment deposit. In addition, you must submit the Certificate of Funding form and verification documents proving that you have funding to support your studies at the Institute.

 

Yes. The Institute offers scholarships for undergraduate and graduate students in our programs. Scholarships are partial tuition scholarships. Typically, the scholarships are two years in duration and do not apply towards summer tuition expenses. About 90 percent of our international students receive a scholarship from CIIS.

 

Consular standards for visa eligibility may be considerably more rigorous than the standards you must meet to qualify for an I-20. The Consular Officer will require you to provide the same (and possibly additional) financial documentation you provided to CIIS. You will most likely be required to show this documentation again upon arrival in the U.S. at your port of entry. It is important that you provide original financial verification documents to the Consular Office.

In addition, consular officials will need to be convinced that you are intending to return to your home country after your program of study is completed.

You may want to contact your department to let them know of possible delays in your entry. Please also contact the International Student Advisor, Shmee Giarratana at sgiarratana@ciis.edu for assistance.

F-1 students may remain in the United States while in the transfer process provided that they transfer to their new school of study within five months of transferring out of their current program or within five months of their current program completion date, whichever is earlier.

If you plan to transfer to CIIS you should complete the following steps:

Notify your current school's International Student Advisor of your decision to transfer to CIIS. Based on your current academic situation, the International Student Advisor at your current school will establish a "transfer out" date for you.
After the "transfer out" date, your SEVIS records will be available to CIIS. The International Student Advisor will be able to generate a new I-20 for your study at our Institute.
You are required to contact the International Student Advisor at CIIS within 15 days of your new program start date.

 

If your spouse or dependent child plans to join you in the U.S., you will need to provide verification of additional funding to support their living expenses in the U.S. This information should be submitted with the Certificate of Funding form. With proper documentation, the International Student Advisor will be able to issue a SEVIS I-20 for use by your spouse and/or child.

To qualify for an F-2 visa, your spouse would need to present a marriage license and you would need to present a birth certificate for your child. It is easier for dependents to obtain a visa if the visa application is made along with the student visa application at the U.S. Consulate BEFORE the student's initial entry.

After the visa is issued to the spouse/child, he or she can use the dependent I-20 to enter the U.S. at a later date, if necessary.

If you decide that your spouse will join you after you have arrived at CIIS, you should come to the International Students Office for further information.

Note: F-2 visa holders (dependents of F-1 visa holders) are not allowed to work in the U.S. under any circumstances.

 

No. U.S. law defines a dependent as a child under the age of 21 or legal spouse. U.S. law does not provide the benefits of F-2 status to unmarried partners. Such partners will either have to come on a visitor visa, enroll independently at a college, or obtain an employment visa.

 

Yes. F-1 visa holders are permitted to work on-campus up to 20 hours per week during the academic year and up to 40 hours per week during break periods. The International Students Office provides guidance through the employment process. If you are granted work authorization, you will be eligible to earn a pre-determined amount of money in a given school year.

 
Contact Us
CIIS is committed to international education and to providing quality support and services for international students. Our office is here to assist with the student visa process, and can help you prepare to study in the United States. Once you become a student, International Student services serves as a resource for immigration regulations, academic writing workshops, and to help international students adjust to life in the U.S. 
For assistance, please contact Shmee Giarratana, International Student Advisor, at sgiarratana@ciis.edu.