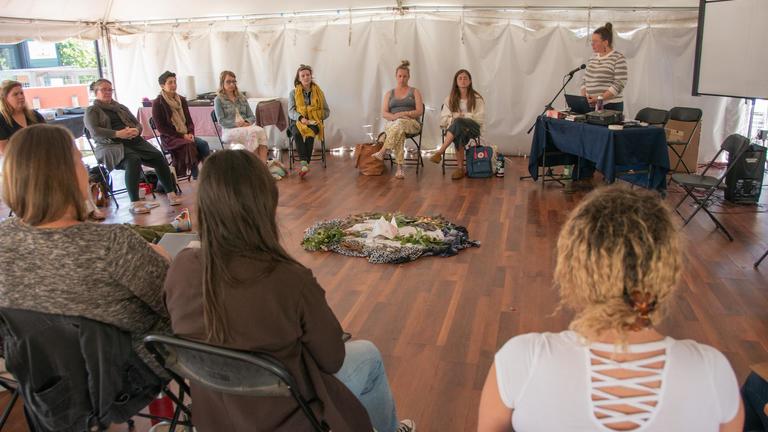 Master of Arts in Expressive Arts Therapy
Embracing the power of the arts for healing, growth, and social change.
Program Overview
Our Approach
The Master of Arts in Counseling Psychology with a Concentration in Expressive Arts Therapy is a BBS-approved, part- or full-time low-residency degree program for California residents. The pedagogy provides an engaging online, hybrid curriculum that weaves multimodal expressive arts, such as visual and digital arts, music, dance and movement, poetry, spoken word, and drama, into all courses.
Our program utilizes the strength of the arts as implements for human development and healing, social change, and empowered self-agency. Our emancipatory perspective explores individual, group, couples, and family therapy practices.
The program works on the innovative Scholar-Artist-Practitioner model that focuses on uniting academic knowledge, clinical practice, and community engagement. Throughout the program students engage with peers and faculty in a collaborative, liberation-focused, arts-based environment. We place a premium on co-learning between students and faculty by creating opportunities for rich, playful, and diverse conversations and experiences.
Career Paths
CIIS' Expressive Arts Therapy program integrates a rigorous education in theories and methods of psychotherapy with intensive training in expressive arts therapy and counseling psychology. 
Schools and education-based settings
Community mental health, arts, and social justice organizations
Hospitals and residential treatment programs
Consulting and coaching
Private practice
The training for this program meets the educational requirements for California's Marriage and Family Therapy (MFT) license and California's Licensed Professional Clinical Counselor (LPCC) license. This program is also designed to meet the educational requirements to become a Registered Expressive Arts Therapist (REAT) with the International Expressive Arts Therapy Association (IEATA).
Curriculum
Hands-on learning through experiential coursework is emphasized. In the first and second years of study, students have the opportunity to integrate theoretical and expressive arts into practice through volunteering or incorporating these basic principles into their current job/vocation. Third year students engage in a year-long, supervised practicum, gaining direct client work experience. 
Classes are taught online in asynchronous and virtual synchronous formats. Students are expected to attend an in-person, one-week intensive that is held at the start of each fall and spring semester in the San Francisco Bay Area. Students work in clinical practice dyads and small groups to deliver collaborative assignments.
Intensive Arts-Based Seminar   
Students, faculty, and advisors come together in residential seminars to engage in extensive, experiential, and intermodal arts-based learning. Up to a third of the coursework for the semester is completed in person, with the remaining coursework delivered in combined asynchronous, and occasional virtual synchronous learning formats to support clinical skill development.
Ongoing Arts Practice   
Throughout the program, all students commit to ongoing engagement with new or existing arts practices. First semester courses allow students to employ modalities with which they are familiar, and provides exposure to new modalities as well. At the end of the first semester, each student outlines a practice plan that will promote their learning and preparation to become an expressive arts therapist. Plans are flexible and adaptive to respond to a student's growth and changing needs over their time in the program. Expressive Arts Therapy courses offer frequent opportunities for art-making, response art, and arts-based inquiry through which students can apply their arts practices and experiment with new ones.
Students have the freedom to choose less formal, self-guided practices and/or those involving more structure, including guided training, presentations, publication, performances, and more. All costs and materials involved with a student's individual arts practice are the sole responsibility of the student.
Personal Therapy Requirement
Students are required to complete 50 hours of personal psychotherapy with a licensed mental health professional (ideally an Expressive or Creative Arts Therapist).
License Ready
The Master's in Counseling Psychology with a Concentration in Expressive Arts Therapy meets the educational requirements for MFT licensure in the state of California, and LPCC in the state of California with additional optional units. After graduation, students must complete a number of supervised client contact hours and pass the MFT licensing examination before becoming a Marriage and Family Therapist. This process takes, on average, 3 to 5 years post graduation.
Curriculum Highlights
EXA 5501 Psychotherapy Theories & Practice (3 units) This is an introduction to traditional and contemporary theories and practices of psychotherapy. We begin by situating the field in relation to its sociocultural, historical, and Indigenous roots. We go on to examine psychodynamic, Jungian, existential-humanistic, cognitive-behavioral, and collaborative approaches integrating feminist and multicultural perspectives, addressing intersections with the recovery model. Creative arts-based case examples for various approaches are woven into the fabric of the class.
EXA 6020 EXA & Trauma (3 units) This advanced-level class focuses on developing an understanding of what trauma is and how it functions on individual, community, and collective levels. You will critically explore theories and practical responses to the affective, cognitive, behavioral, neurological effects associated with trauma and crisis counseling. You will develop an advanced understanding of DSM definitions of trauma, differential diagnosis, and evidenced-based treatment strategies. You will additionally learn how to explore the ways that expressive arts and somatic psychotherapies can be effective as interventions in helping clients to recover from trauma.
MCPE 5606 & MCPE 6606 Family & Couples Dynamics I & II (3 units) This two-part course surveys a broad range of contemporary theories and practices within the field of family and couples therapy and their application in working with LGBT and heterosexual couple and family constellations across diverse cultures. You will be introduced to major contemporary approaches within the field, including structural, strategic, narrative, solution-focused, symbolic-experiential, EFT, and the Gottman Method. The course includes modules addressing issues related to blended families, interpersonal violence, migration stressors, divorce and separation, addiction, and illness. You will learn how to integrate the use of visual arts, music, movement, drama, and the language arts in family and couples therapy practice.
Hybrid MFT Track (60 units total)

Semester 1 | Fall

EXA 5501 Psychotherapy Theories and Practices (3 units)

EXA 6036 History and Foundations of EXA Therapy (2 units)

MCPE 6604 Multicultural Counseling and the Therapeutic Relationship (3 units)

EXAL 5602 Therapeutic Communication Lab (1 unit)

MCPE 5201 Human Development and the Family (3 units)

Semester 2 | Spring

EXA 6064 Psychological Assessment and Creative Arts Therapy (3 units)

EXA 6088 EXA Approaches: Module I (1 unit)

MCPE 5634 Group Dynamics and Therapy (3 units)

MCP 5108 Psychopathology & Psychological Assessment (3 units)

MCP 6106 Human Sexuality (1 unit) OR MCP 6102 Assessment and Treatment of Addiction Disorders (1 units)

Semester 3 | Fall

EXA 6089 EXA Approaches: Module II (1 unit)

MCPE 5606 Family & Couples Dynamics I (3 units)

MCPE 6403 Research Methods (3 units)

MCP 6502 Child Therapy (2 units)

MCP Intro to Community Mental Health & Recovery Model (2 units)

Semester 4 | Spring

MCP 5105 Professional Ethics and Family Law (2 units)

EXA 6055 The Arts in Therapy (3 units)

EXA 6618 EXA Approach: Narrative Expressive Arts and the Family (2 units)

MCPE 6606 Family & Couples Dynamics II (3 units)

MCP 6101 Human Sexuality (1 unit) OR MCP 6102 Assessment and Treatment of Addiction and Disorders (1 unit)

Semester 5 | Fall

Practicum

MCPE 7604A Supervised Clinical Practicum Group (3 units)

EXA 5993 Expressive Arts Therapy Integrative Seminar I (1 unit)

EXA 6090 EXA Approaches Module III (1 unit)

EXA 6020 EXA & Trauma (3 units)

Semester 6 | Spring

Practicum

MCPE 7604B Supervised Clinical Practicum Group (3 units)

EXA 5994 Expressive Arts Therapy Integrative Seminar II (2 units)

EXA 6853 Professional Development (1 units)

EXA 609 EXA Approaches Module IV (1 unit)
Online Admissions Application: Begin the application process by submitting an online application and paying the non-refundable $65 application fee.

Degree Requirement: An undergraduate degree (B.A., B.S., or B.F.A.) from an accredited college or university.

Minimum GPA: A GPA of 3.0 or higher in previous coursework is required. A GPA below 3.0 does not automatically disqualify an applicant. CIIS will consider a prospective student whose GPA is between 2.0 and 3.0. These individuals are required to submit a GPA Statement and are encouraged to contact the Office of Admissions to discuss their options.

Transcripts: Official transcripts from all accredited academic institutions attended where 7 or more credits have been earned. If transcripts are being mailed to CIIS, they must arrive in their official, sealed envelopes. Transcripts from institutions outside the US or Canada require a foreign credit evaluation through World Education Services (WES); CIIS will also accept foreign credential evaluations that are in a comprehensive course-by-course format from the current members of the National Association of Credential Evaluation Services (NACES).

Short Essay Responses: Please write a series of brief responses, one for each of the following prompts in the order that they appear:

Why are you interested in applying to CIIS specifically to study Expressive Arts Therapy? (350 words maximum)
Describe the creative arts modalities you would bring with you into the Expressive Arts Therapy program. (350 word maximum)
Please describe the direct human services experiences you have had in either employment  and/or through volunteering. (200 word maximum)
What internal and external strengths and resources do you draw from to help you cope in your daily life? What social supports does this include? (200 word maximum)
Our graduates are expected to be able to work with people from very diverse social, cultural, sexual/affectional preference, gender and socioeconomic backgrounds. What is your experience of relating across dimensions of difference? (200 word maximum)
The low-residency program requires a high level of self-directed, autonomous work in addition to the ability to work in groups. Please describe your experience in: a.) working individually, and b.) working collaboratively in a group to meet a deadline. (200 word maximum)
Due to the hybridized nature of our education delivery format, students must demonstrate the ability to work with/navigate online learning formats. Please describe a challenge you have encountered in working in an online learning environment and how you overcame (or imagine overcoming) the challenge. (200 word maximum)

Two Letters of Recommendation: Letters of recommendation will be accepted from academic advisors, professors, professional supervisors, or someone able to attest to your ability to undertake the work required for your program. Recommenders should use standard business format and include full contact information - name, email, phone number, and mailing address. 

Academic Writing Sample: A five-page sample of a piece of your academic writing (typed, double-spaced) that demonstrates your capacity to think critically and reflectively and demonstrates graduate-level writing abilities. You may submit copies of previous work, such as a recent academic paper, article, or report that reflects scholarly abilities. The selected sample must be five consecutive pages. A sample that uses outside sources must include proper citations. Please include the reference pages from this writing sample. (The reference pages are not included in the five-page limit.)

A Current Curriculum Vitae detailing your educational and professional experience.
Have the arts ever helped you through an emotional or life crisis? Have you ever used activities such as creative writing, painting, pottery, singing, dancing, or improvisational acting to feel a greater sense of aliveness? Are you looking for a career where you can integrate your passion for the arts with your desire for personal, relational, and systemic healing and social change?

At CIIS, we encourage you to combine academic rigor with personal experience to craft your own identities as Expressive Arts Therapists.

Books

Malchiodi, C. A. (Ed.) (2005). Expressive Therapies. New York, NY: Guilford Press. Dr. Cathy Malchiodi is a prominent voice in the field of Expressive Arts Therapies. Her publications have made these concepts and research in our field widely accessible to practitioners and the general public. Her most recent works focus on the healing principles of EXA when working with clients who have experienced trauma. This text offers a very helpful, efficient introduction of the major creative and expressive arts therapy disciplines.
Bailey, S. (2021), Careers in Creative Arts Therapy Careers: Succeeding as a Creative Professional. Routledge. This is a collection of essays written by and interviews with registered drama therapists, dance/movement therapists, music therapists, art therapists, poetry therapists, and expressive arts therapists. The book sheds light on the fascinating yet little-known field of the creative arts therapies – psychotherapy approaches which allow clients to use creativity and artistic expression to explore their lives, solve their problems, make meaning, and heal from their traumas. Featuring stories of educators in each of the six fields and at different stages of their career (including CIIS EXA faculty, Danielle Drake, PhD and Phil Weglarz, PhD), it outlines the steps one needs to take in order to find training in one of the creative arts therapies and explores the healing aspects of the arts, where creative arts therapists work, who they work with, and how they use the arts in therapy.   This book illuminates creative arts therapy career possibilities for undergraduate and graduate students studying acting, directing, playwriting, creative writing, visual arts, theatre design, dance, and music. 
Afuape, T. (2011). Power, Resistance and Liberation in Therapy with Survivors of Trauma: To have our hearts broken. New York, NY: Routledge. Dr. Taiwo Afuape's work is foundational to the pedagogy of the EXA Program. She has reconceptualized the concepts of power, resistance and liberation as co-creative acts that take place in therapy and in life for both clients and practitioners alike. Through liberation psychology, Dr. Afuape outlines a vision for co-create healing practices that honor the wisdom and agency of all involved in healing processes.
Menakem, R. (2017). My Grandmother's Hands. Las Vegas, NV: Central Recovery Press. This recent publication by Mr. Resmaa Menakem shifts the focus of racism to the body. This ground-breaking text is part of the required reading for the Family Systems course sequence in the EXA program.
Hooks, b. (1994). Teaching to Transgress: Education as the Practice of Freedom. New York, NY: Routledge. A classic in the field of education, Womanist activist/scholar/educator bell hooks' treatise on teaching as an act of rebellion in the name of freedom informs the foundational pedagogies of the Expressive Arts Therapy program. As a community of learners, we are all gathered together to become contributing Scholar/Artist/Practitioners in the wider field of Expressive Arts Therapy.

Websites

Before entering the world of Expressive Arts Therapy as a graduate student, we recommend that you get involved in the community. Practical experience in human services and local arts are important early steps of the learning experience. Below are examples of how to gain experience:

Volunteer at an LGBTQ center, Youth Services Center or another human services organization. There are both national and local organizations that provide these opportunities.
Get training and volunteer for a suicide hotline or a survivors of domestic violence hotline. There are both national and local organizations that provide these opportunities.

OR, contact your local DV agency to inquire about hotline training opportunities.

Attend cultural events related to a background other than your own and explore arts modalities other than modalities you have trained in.

Attend arts performances, lectures, movies, or cultural events (please practice safety measures during COVID-19 - many events have gone online!)
Ask a friend from a spiritual practice other than your own if you may worship with them
Take a class that teaches you about cultures other than your own locations of identity
Read books (see above for some suggestions)
Study forms of art that are unfamiliar to you. If you are a singer, study painting. If you are a ceramicist, study singing. If you are a poet, study improv. The sky is the limit!

The professional practice of counseling is a regulated occupation in the state of California. Coursework in the Master of Arts in Counseling Psychology program at CIIS and each of its five programs is approved by the California Board of Behavioral Sciences (BBS) to fulfill educational requirements toward the marriage and family therapist license (LMFT).

Students also have the option to take additional coursework to fulfill the educational requirements of the professional clinical counselor license (LPCC). Students seeking the LPCC licensure also take courses for the MFT, enabling them to pursue either license and to work with couples, families, and/or children as an LPCC.

Students seeking licensure in California as an LMFT or LPCC must register with the BBS after graduation and successfully complete additional post-graduate supervised clinical associate hours and written examinations. See the BBS' Statutes and Regulations PDF for additional information.

In many cases, our coursework and training is very similar or entirely portable to many states. However, each state has their own specific licensure requirements that include both academic coursework and clinical practicum hours that may differ from CA's requirements.

In cases where this program does not meet the requirements for another state, additional coursework or practicum hours may be required. While licensure may be possible in another state, it is not guaranteed. Luckily, you will have the full support of the Director of MCP who will help you understand the specific licensing requirements.

Lastly, you should consult the licensing boards of the appropriate state of country for the most up-to-date licensing information outside of California.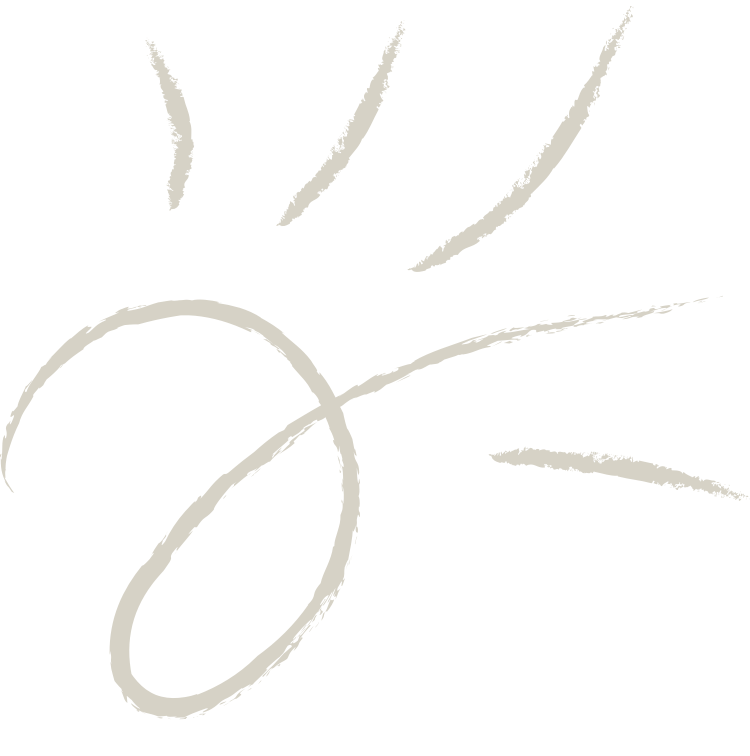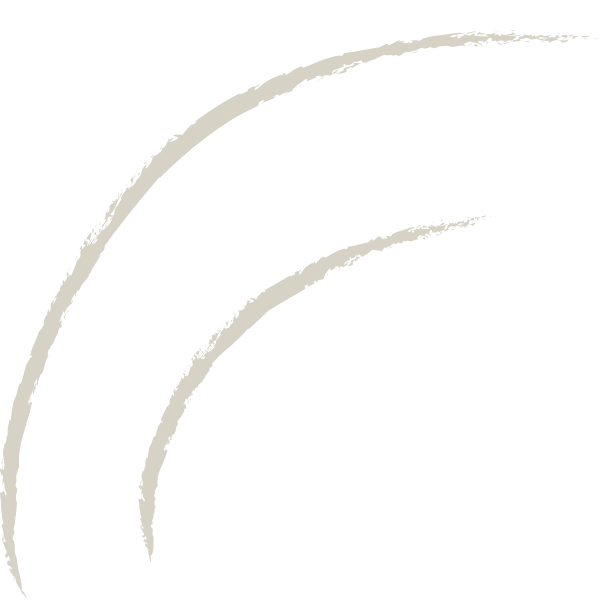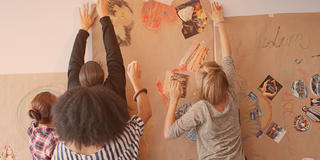 Take the Next Step
For over 50 years, CIIS has been at the forefront of education that integrates rigorous science, innovative scholarship, and social justice. You will learn from faculty at the forefront of their fields, local artists and activists, and a community of peers as passionate and dedicated as you. There's never been a better time to be here – let's build a healthier and more equitable world.