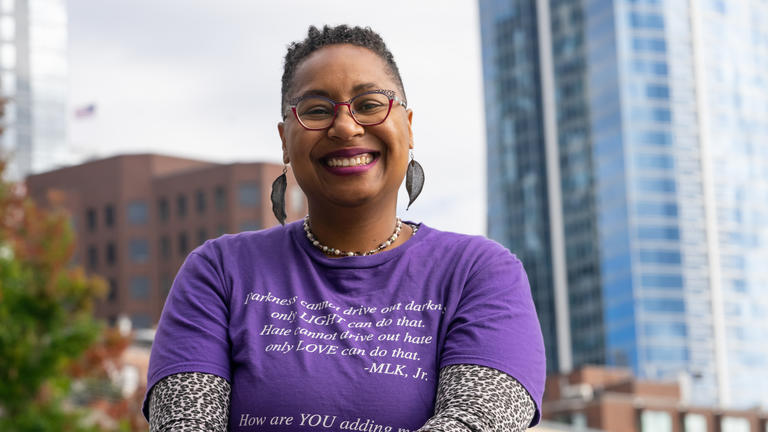 Work That Matters: Healing is a Path to Justice
Alumna Kevonya Elzia tells CIIS about her journey from the Integrative Health Studies and Transformative Leadership programs to being a community health nurse and health, equity and justice facilitator.
Health care. Two words we combine so often without consideration or reflection, forgetting that each refers to a distinct aspect of human well-being: our health, mental and physical, but also our care, interpersonal and all too elusive in our current systems. Health has metrics and measures. But how do we ensure that care for each unique individual's needs and boundaries is a part of the conversation? And how do we even begin to ensure equity of care extends to whole communities? 
Kevonya Elzia, B.S., M.A., R.N., a 2018 graduate of the Integrative Health Studies program at CIIS, knows how we can get started.
Kevonya (who prefers to step outside the Western model and use her first name), a community health nurse and health, equity and justice facilitator, is leading health care in a new direction by taking individual and community well-being out of their separate boxes and seeing them as a unified whole. She looks at big-picture issues like nutrition, housing, education, and others to treat the causes of mental and physical illnesses alongside personalized treatments. This both/and approach has been a powerful force for good, but it wasn't always clear how to blaze her own path forward.
"I only can do my job the way that I do because of the really unique journey that I took," she reflects. Originally focused on 1:1 healing as an RN, while at CIIS, Kevonya shifted to systemic healing as a way of getting to the root of the concerns she saw affecting her clients. She started in Integrative Health, but soon added Transformative Leadership coursework, and then brought in CIIS' Public Programs centering social and racial justice—forging for herself a truly integral way of learning.  
Kevonya took that mentality with her when she graduated from CIIS and used it to shape a unique career. She expanded her work by founding  Illuminating Hearts, LLC in the Seattle area, which helps individuals and organizations via coaching and health equity justice training and facilitation. She advocates "healing as a pathway to justice" in her workshops, teaching people to see racial healing as integral to public health and personal well-being. She understands it is not enough to provide services that address trauma and health disparities without also addressing and dismantling the institutions and social practices that created them. Building on the skills she learned during her time at CIIS, Kevonya develops curriculum and tools to aid in that dismantling. She is especially attentive to the pitfalls medical and helping professionals sometimes fall into, and helps them recognize how we cannot expect patients recover or create social change in marginalized communities if we remain ignorant of the colonial trauma and its subsequent legacy of oppression that surrounds us.
"I love my job and I wouldn't change it for the world," she says, smile wide and eyes focused. As a community health nurse she works with populations who may have experienced mental health challenges, housing challenges, and substance abuse challenges. Each individual Kevonya meets has unique needs, like the patient she assisted in the hospital after suffering a stroke. "I asked for a referral to a specialist I was told no." For the person hospitalized, fatigued and overwhelmed, this might have been the end of the conversation. For Kevonya, it was a call to action. Her gently affirming presence is all the more comforting for its steely core: no matter how tough things get, Kevonya is an expert and advocate that her patients can rely on.
The source of this steadfastness comes in part from Kevonya's willingness to go deep into the process with and for her patients.
When you're doing health, equity, and justice work it's all about you having to embody vulnerability. You can't ask other people to do it if you can't do it yourself."
Relentless with systems that refuse to see individual need, she never loses sight of that gentle individual touch in her own person-to-person practice, using grounding techniques that affirm a natural connection and comforting embodiment. Her office is deliberately stocked with integrative elements to engage all five senses, from music to candles. Not every clinician would put themselves so thoroughly in the place of the client, but this is the work of an integrative healing teacher and activist.
"I think what I would want people to know about the communities that I support is that we all have a shared humanity. We all have stories. We are all impacted by our own internal stories, our familial stories, and society's stories." Kevonya works with populations who may have experienced mental health challenges, housing challenges, and substance abuse challenges, among others, but she makes sure never to lose sight of the full story of their human journey. "This is where my human services and integrative health piece came in because then I could have those [personal] conversations with my patients. I know medicine. That's why my work matters: because I'm able to bridge patient care with actual well-being and wellness."
-
Watch another episode of Work That Matters here: Queering Motherhood: An Inquiry with Alum Talia Molé
Request Info about the Integrative Health Studies Master's Program
CIIS' Integrative Health Studies program embraces a unique, multifaceted approach to integrative health that includes psychological behavior change, holistic lifestyle medicine, and addressing community-based health disparities. This NBHWC-approved program centers a rigorous, comprehensive curriculum that prepares graduates to become experts equipped with evidence-based practical skills in a range of integrative modalities.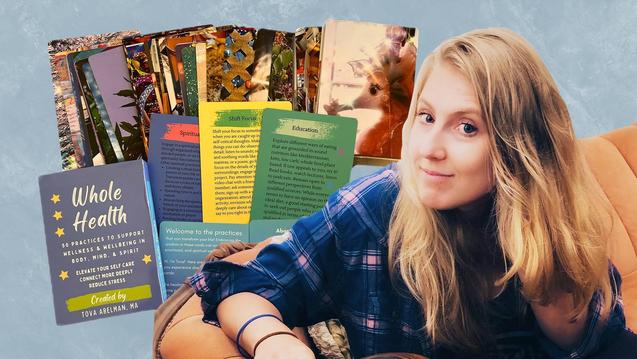 An interview with CIIS alumna Tova Abelson about her recent publication of the Whole Health Card Deck, which helps users connect to six key facets of wellness.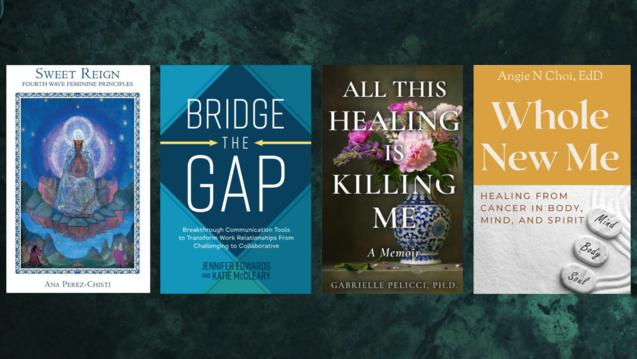 Spotlighting four titles from the past year that speak to the wide range of wisdom and expertise our graduates bring to the world