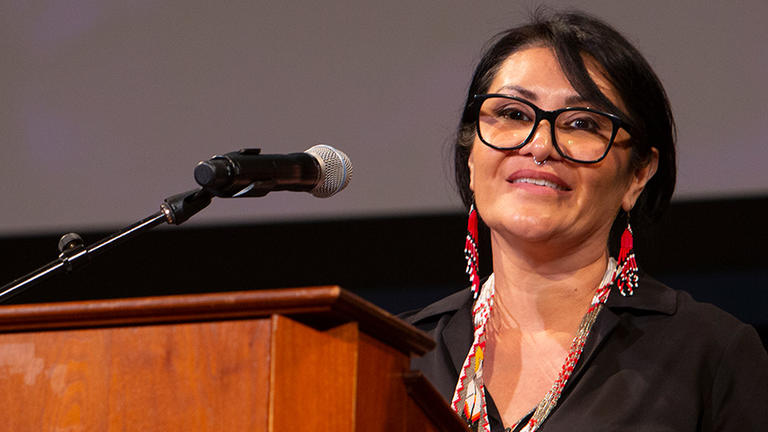 Creative Offering by CIIS Student Mia Cruz
An offering by CIIS Student Mia Cruz opened up the 55th Commencement Ceremony of the California Institute for Integral Studies
Mia Cruz is an M.A. candidate in the Community Mental Health program and a member of the Te-Moak Western Shoshone Southfork Band. Her focus is in decolonizing death by reclaiming ancestral death ceremonies. She also works as a death doula and hospice nurse and develops curricula to teach Indigenous end-of-life care.
E hakanniyu, it means welcome.
It is an honor to be celebrating with you today. As Mother Earth awakens in full bloom, "Tahwani" (spring) is a reminder of rebirth, renewal and remembrance. I call upon each of you to "nasuntamah" (remember) your Creation story. Where you began your journey that has led you to this very moment. And as you bring your gifts to the world, always come together in a good way, with an open heart and a listening ear.
I would also like to take this time to remember our missing and murdered indigenous women, girls, and our sacred two-spirit relations, that they are not forgotten and that they are always in our hearts.
The poem I will be reciting today is called "Remember" by Joy Harjo.
Remember the sky that you were born under,
know each of the star's stories.
Remember the moon, know who she is.
Remember the sun's birth at dawn, that is the
strongest point of time. Remember sundown
and the giving away to night.
Remember your birth, how your mother struggled
to give you form and breath. You are evidence of
her life, and her mother's, and hers.
Remember your father. He is your life, also.
Remember the earth whose skin you are:
red earth, black earth, yellow earth, white earth
brown earth, we are earth.
Remember the plants, trees, animal life who all have their tribes, their families, their
histories, too. Talk to them,
listen to them. They are alive poems.
Remember the wind. Remember her voice. She knows the origin of this universe.
Remember you are all people and all people
are you.
Remember you are this universe and this
universe is you.
Remember all is in motion, is growing, is you.
Remember language comes from this.
Remember the dance language is, that life is.
Remember.