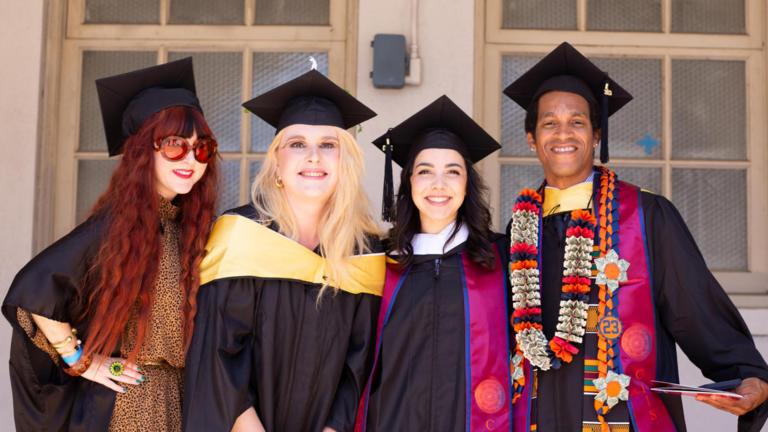 CIIS' 55th Commencement Ceremony
CIIS was overjoyed to hold its 55th Commencement on Sunday, May 14, 2023, the first in-person graduation since 2019. Festivities began at the Sydney Goldstein Theater in San Francisco with a commencement reception on Mission campus. 
California Institute of Integral Studies was overjoyed to hold its 55th Commencement on Sunday, May 14, 2023, the first in-person graduation since 2019. Festivities began at the Sydney Goldstein Theater in San Francisco, where CIIS President S. Brock Blomberg conferred 635 degrees upon the graduating students: 487 master's degrees, 88 Ph.D.s, and 60 undergraduate degrees, all of which are a testament to the incredible dedication, learning, and insight of our students.
Commencement Highlights Gallery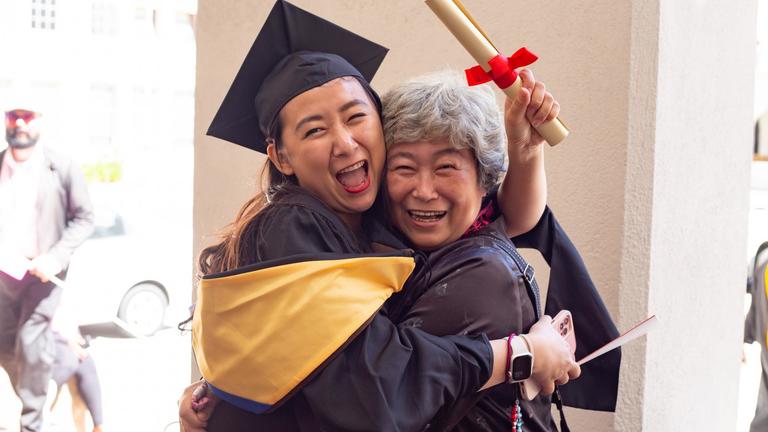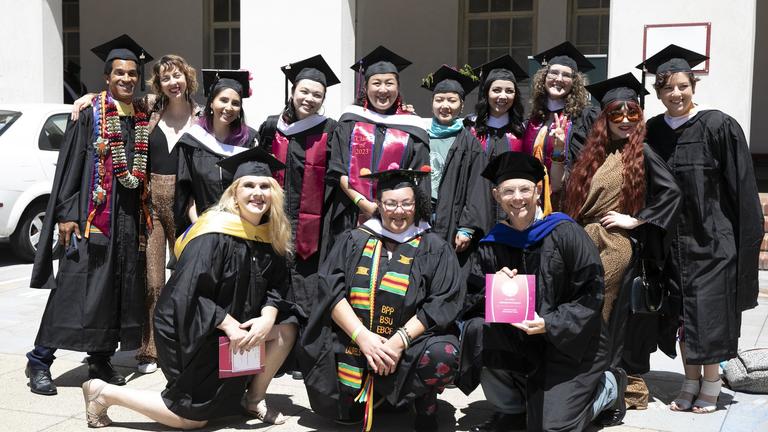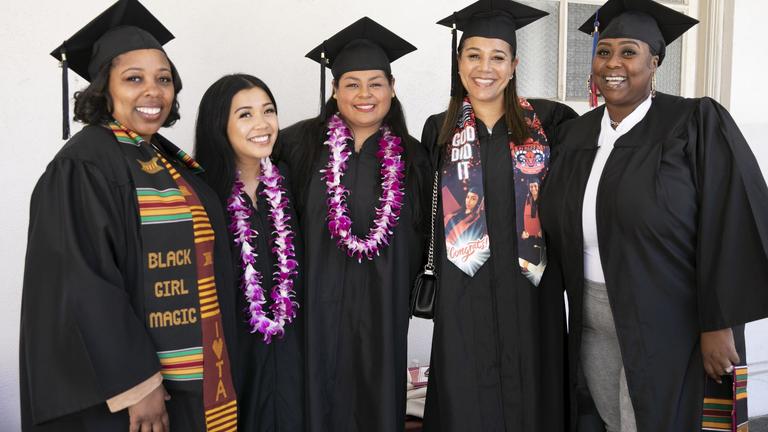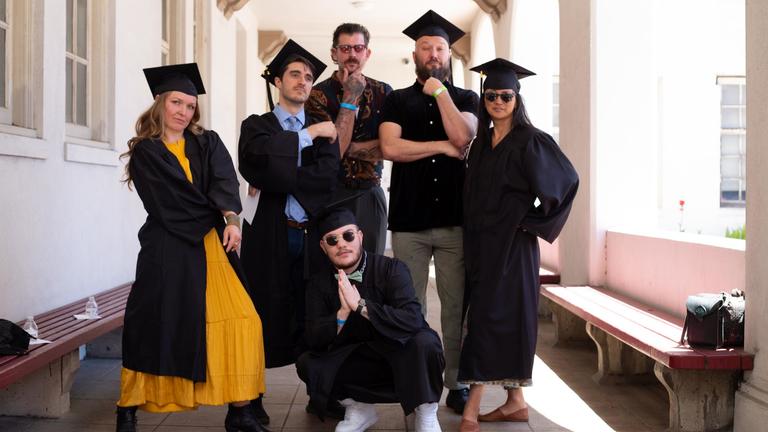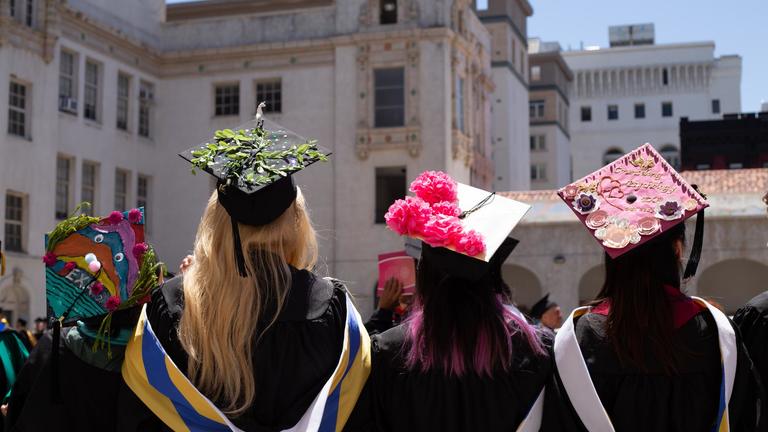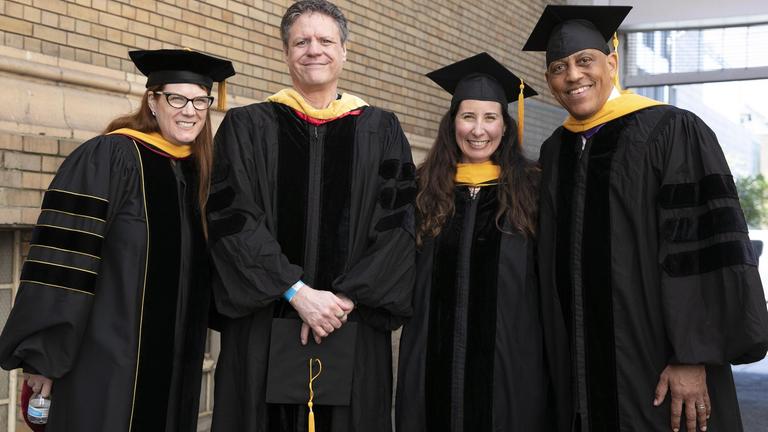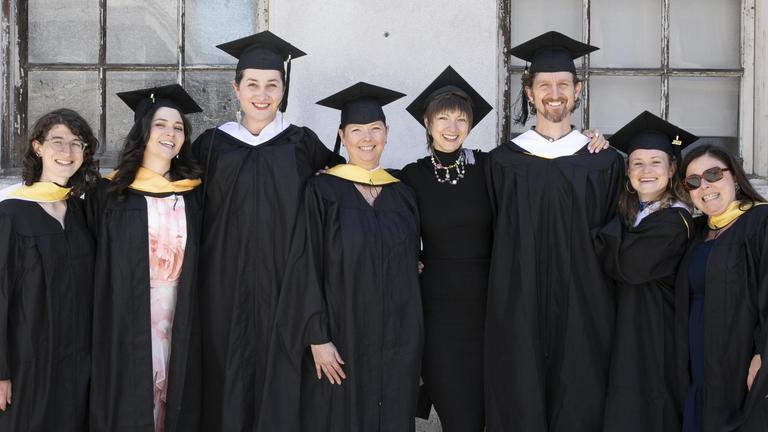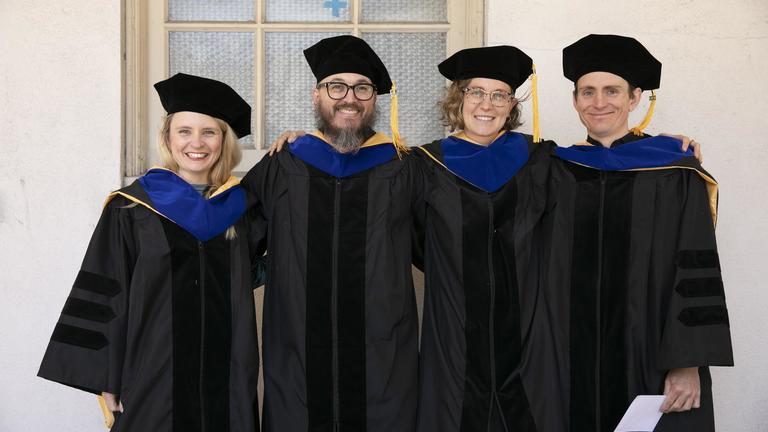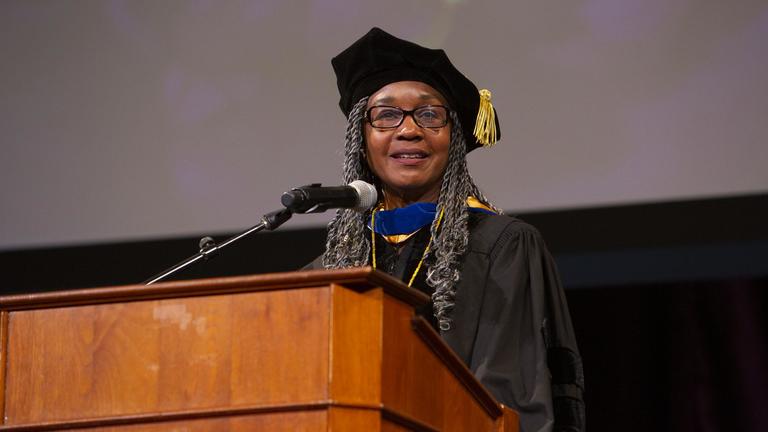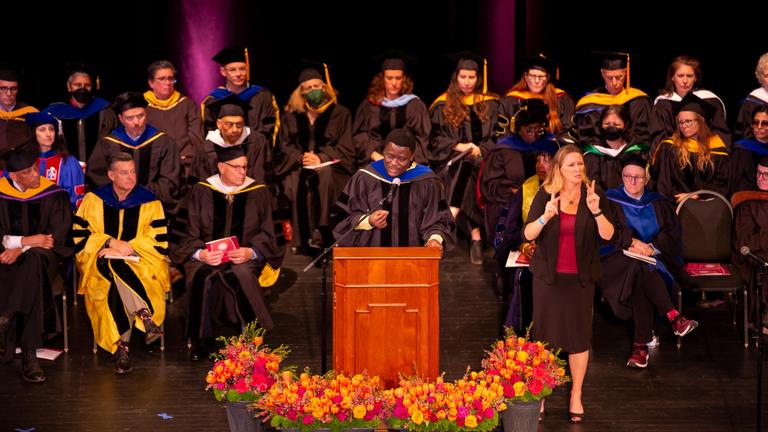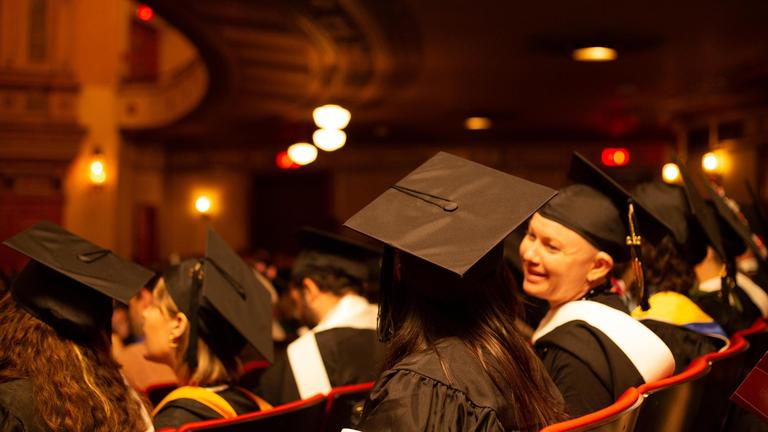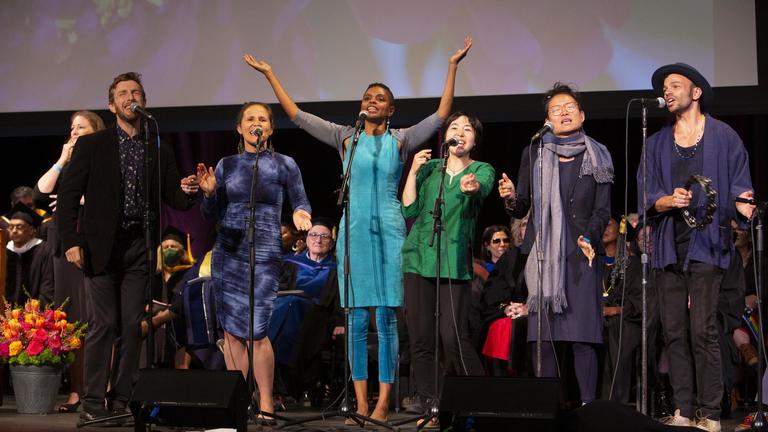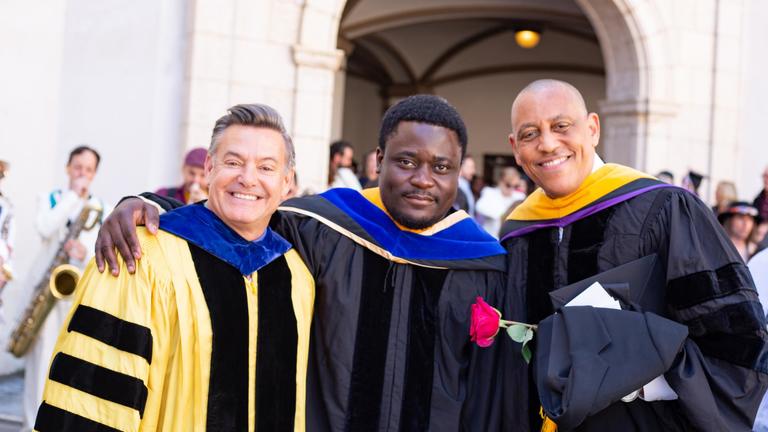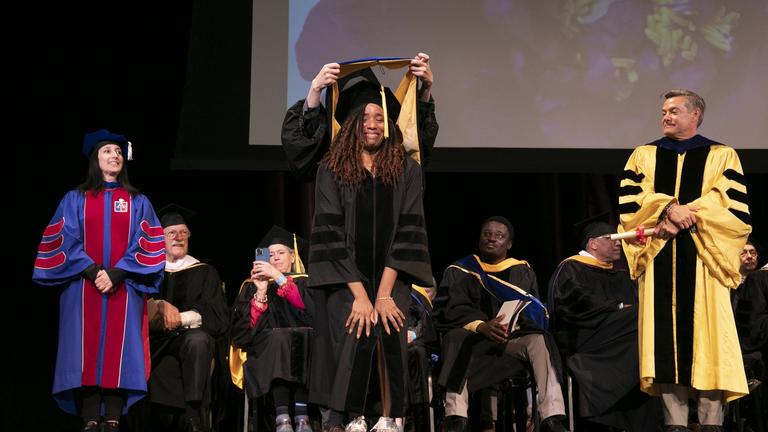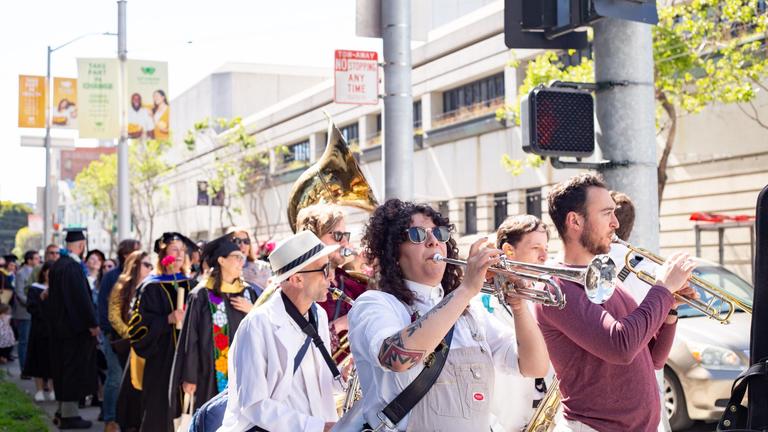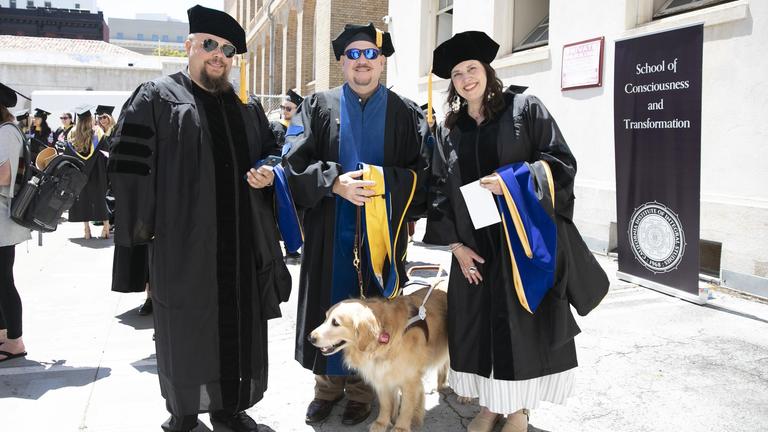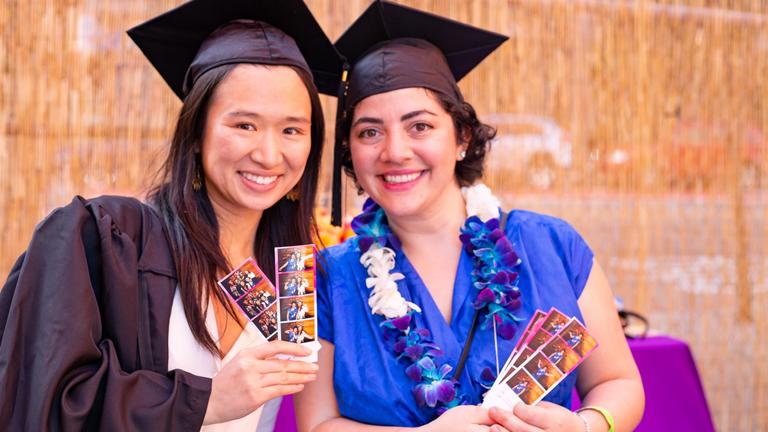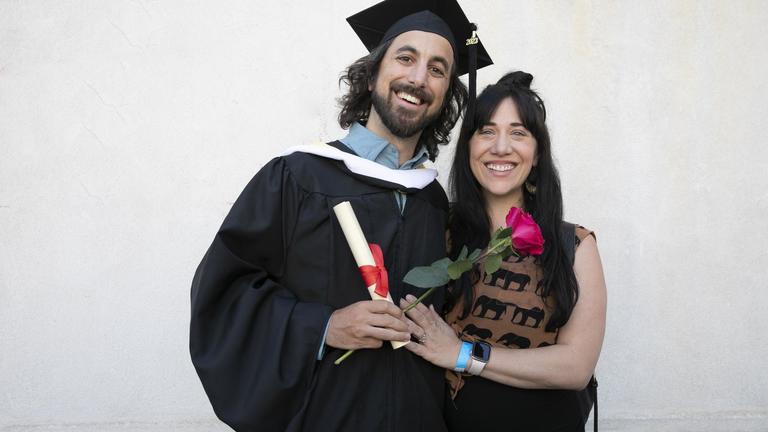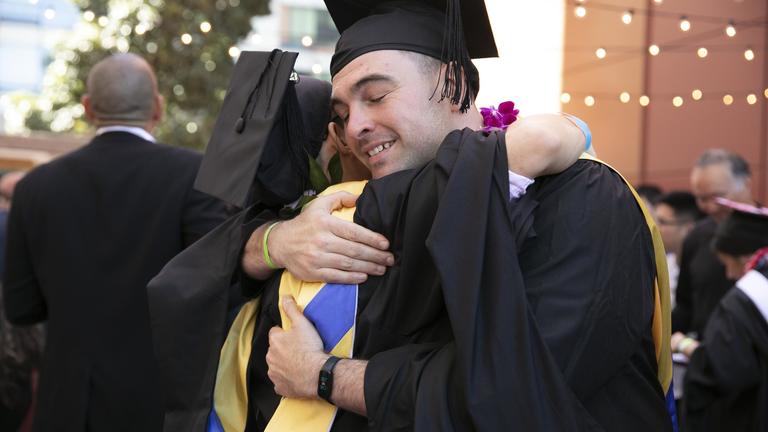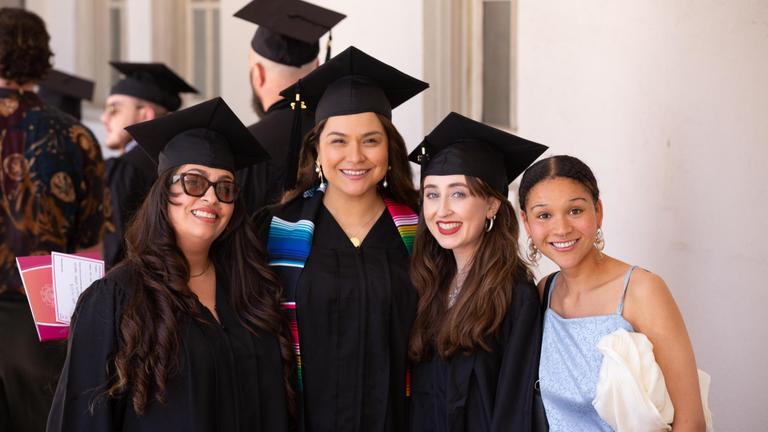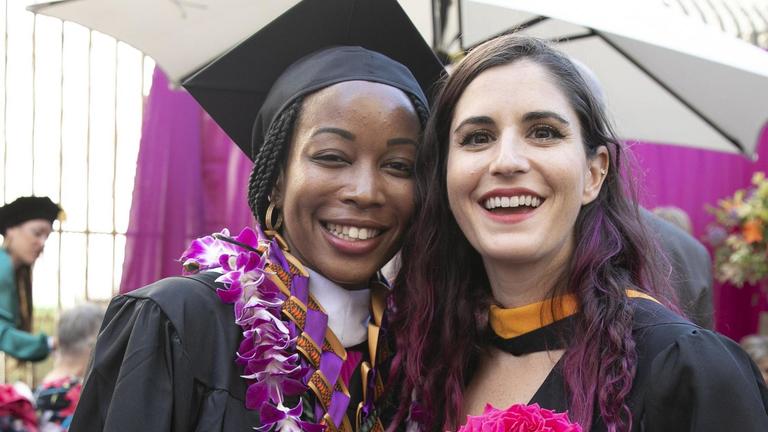 Bayo Akomolafe, Ph.D., author, fugitive post-activist public intellectual, Yoruba poet, and founder of the Emergence Network, gave a commencement address overflowing with humor and heart to mark the occasion. "Our work must be to make sanctuary together – not for us to be safe, but for the crack to thrive, to grow, to become resilient," he implored the crowd. Joining him in speaking was Kel Smith, M.A. '23 of the Somatic Psychology department, who delivered the student reflection and invited the crowd to take a deep breath before embarking on the next stage of their journeys. In addition to speakers, CIIS also incorporated the music of Wildchoir, which were interspersed with creative offerings from student Mia Cruz and Faculty Chair Dr. Annette Williams.
Read the Creative Offering by CIIS Student Mia Cruz
Following the ceremony, some members of the "funky brass" marching band Mission Delirium led a procession of more than 200 graduates, along with their families and friends, back to campus for a joyous celebration and reception.
Keynote Address by Bayo Akomolafe, Ph.D.
"I am not here to encourage you. I'm not here to motivate you, to urge you at this potent time and place to believe in yourself considering your achievements in your fields of study, to tell you that you can make it if you try hard – all the contractually obligatory things I ought to say. I am not even here today to tell you that you can change the world. Quite the contrary, I'm here to offer a strange proposition whose value rests not in its worthiness as a truth statement but in its intriguing inversion of the stories we tell about the world and ourselves. It is this: that you can't. That it is not about you. That the world is not reducible to problems and solutions. And that you will not save the day."
Address by President S. Brock Blomberg
"Many students and alums have said that one of CIIS' greatest gifts is that it gives everyone an opportunity to transform. 'You come out a different person,' I've heard it mentioned repeatedly. Radical curiosity, deep inquiry and reflection, multiple ways of knowing, learning, and teaching — pillars of an integral education at CIIS and aligned with our Seven Commitments — are what uniquely foster that transformation."
Image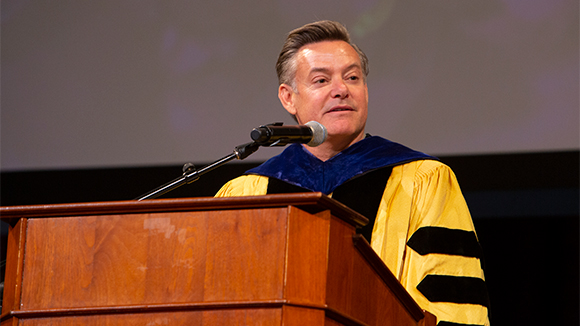 Faculty Emeriti
President Blomberg then recognized the professors who, after their long and accomplished service to the University, were being awarded the status of Faculty Emeriti upon their retirement. The following professors were honored: Alec MacLeod, who served as professor in CIIS' Undergraduate Studies and is a practicing visual artist; Dr. Allan Leslie Combs, who served as a consciousness researcher, neuropsychologist, and systems theorist at CIIS, as well as the Director of the Center for Consciousness Studies; Dr. Barbara Morrill, who served as Program Chair, Associate Professor, and core faculty in the Integral Counseling Program at CIIS; Dr. Brian Thomas Swimme, who served as professor of Philosophy, Cosmology, and Consciousness at CIIS and who served as Director of the Center for the Story of the Universe; and Dr. Richard Tarnas, who served as the founding director of the graduate program in Philosophy, Cosmology, and Consciousness and who taught courses in cultural history, archetypal studies, depth psychology, philosophy, and religious evolution. "I am delighted to announce that the faculty has recommended to me, and I have approved, that you be awarded the status of Professors Emeriti," President Blomberg concluded.
Read President Blomberg's Commencement 2023 Opening Remarks
Student Reflection by Kel Lynn Smith
"As I look back at my time in the Somatic Psychology Program at CIIS, I have learned many valuable lessons, the most meaningful of which I believe has been how to be profoundly human by coming back to myself, my home, my soma. How to inhabit myself attentively, with acceptance and compassionate care."
Image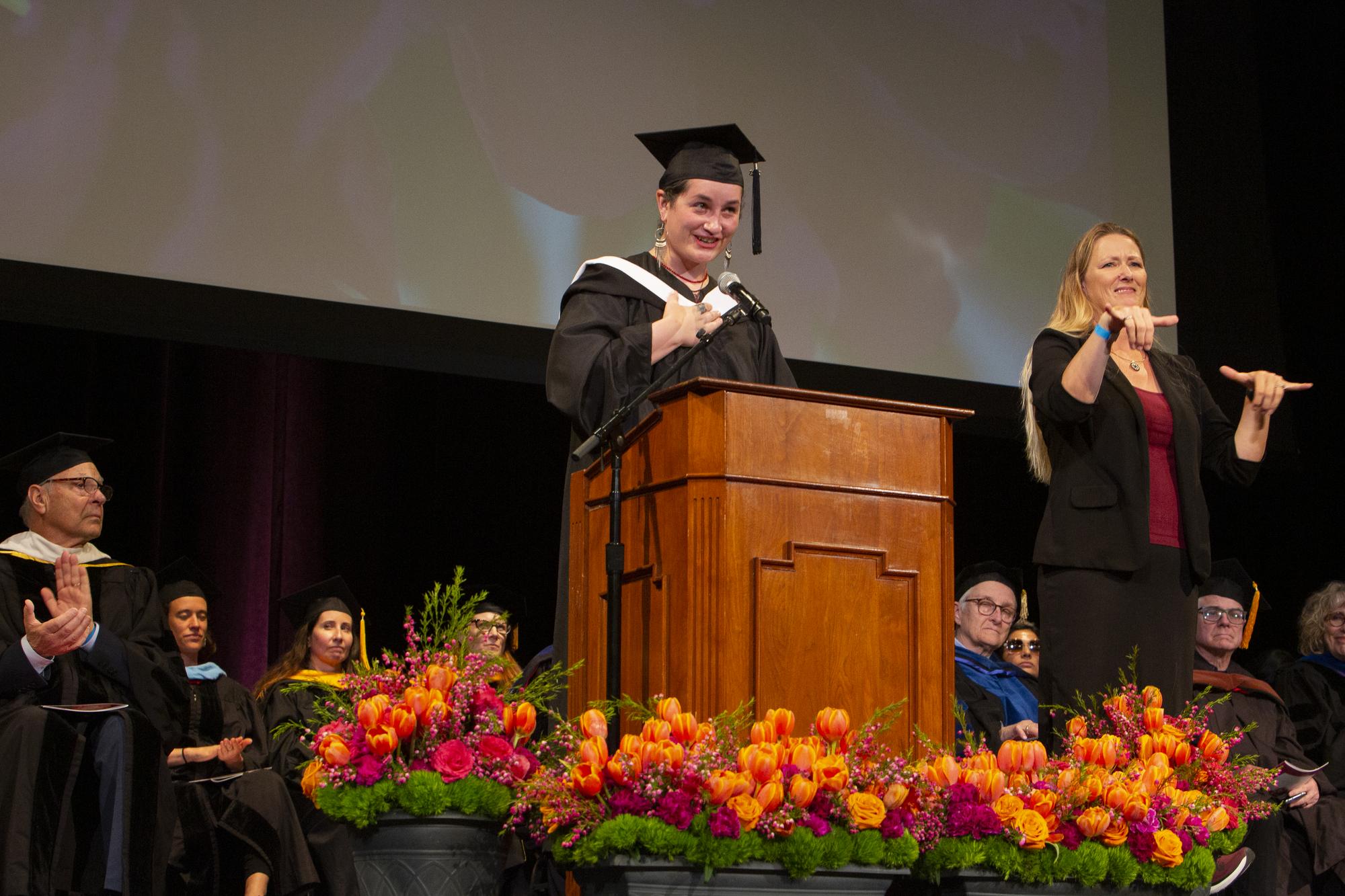 Read Kel Lynn Smith's Student Reflection
Following the conferring of degrees, Dr. Danielle Drake, Dean of Faculty Development, Diversity, Equity, and Inclusion, offered the closing Benediction, "You Answered" to welcome our newest group of alums into CIIS' Alumni Association.
In a moment of global uncertainty    
The world halted   
Turned upside down   
Became unrecognizable    
You answered the call of the Sri Yantra and the bindu   
To meet between spirit and matter    
To manifest creative bliss   
You believed    
in social justice    
climate action    
spiritual science   
consciousness transformation   
embodied creativity    
to imagine a healing   
inside the necessary reckoning unfolding    
Returned back to    
care for all sentient beings   
a celebration of the circular and linear   
an embodiment of all energies   
the feminine, the masculine, the undefined, the expanding, the ineffable    
mapping archetypes across the cosmos   
indigenous practices in health care    
psychologies of heart, body, community, theater, culture, expression,    
And here you stand after years    
on zoom    
in person   
in discussion boards   
in intimacy   
in rupture and ongoing repair   
in relationship   
in spirit   
in mind   
in body   
your soul   
at the threshold   
stepping through   
to a circle of others    
who, as you   
chose a leap of spirit   
against the grain   
over the trodden path   
Come through   
step through   
we have been waiting   
just for you   
arms wide in celebration   
We are    
spirited   
embodied   
expanding circle   
thinking   
breathing   
expressing   
healing   
being   
beings   
warmly   
welcoming   
you
Congratulations Class of 2023! Welcome to the CIIS Alumni Community! Watch the full ceremony below.
A full collection of the 2023 Commencement photos can be found here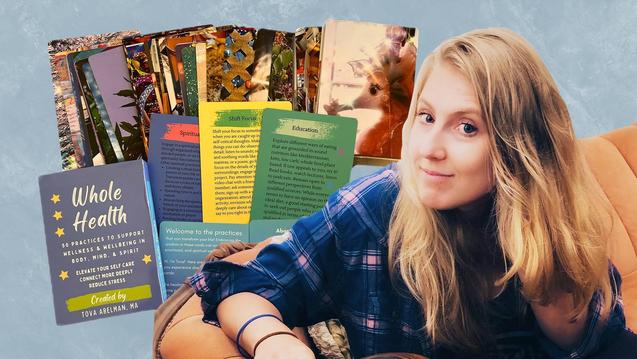 An interview with CIIS alumna Tova Abelson about her recent publication of the Whole Health Card Deck, which helps users connect to six key facets of wellness.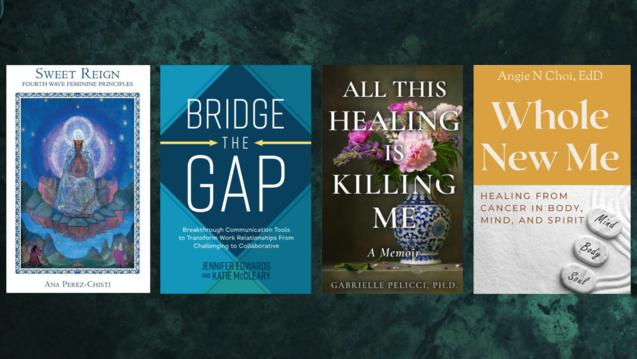 Spotlighting four titles from the past year that speak to the wide range of wisdom and expertise our graduates bring to the world