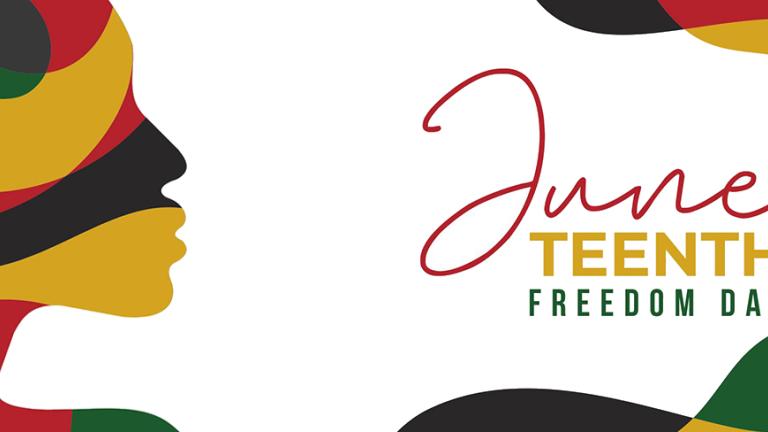 What Juneteenth Means Today
Read about the history of Juneteenth, and watch a video with Damali Robertson on what the day means for CIIS
It's Freedom Day. The history of Juneteenth is critical to understand. Especially for anyone who doesn't know it. When President Lincoln signed the Emancipation Proclamation in 1863 all enslaved people were legally free. However, there were places in the country, like Galveston, Texas, where the newly freed were not aware of this change. On June 19th, 1865 they were made aware and the rest is history. I've included an article that details the history here. 
This history should be taught in K-12 schools and deserves to be part of university-level curricula and pedagogy. Enslavement is one of the greatest crimes against humanity: Stripping Black people [brought to the Americas] of their freedoms, rationalizing their captivity based of the color of their skin, buying and selling human beings for hundreds of years (all while building generational wealth on their blood, sweat, and tears), keeping their freedom from them for two years, and continuing to dehumanize them through racist laws like Jim Crow, attacks on their economic progress like Greenwood, and practices like redlining, are pieces of history that must not be forgotten. Anti-Blackness has been a part of the fabric of this country since 1619 - with millions of people socialized to participate in and to accept it over generations. 
This Cycle of Socialization illustrates the ways racism and oppression have been passed down in our homes, schools, institutions, and systems. (Harro). The evidence is all around us from the school to prison pipeline, to state sanctioned killing of Black bodies, to the racist acts that continue across our society to the anti-Critical Race Theory movement across this country, preventing this history from being taught in schools, and silencing the conversation about racism. White supremacy culture remains committed to hiding the truth. It is our shared responsibility to interrupt this culture and Cycle of Socialization with the truth, with a commitment to liberation.
This truth is the key to freedom. It is the truth that lives at the heart of Juneteenth. Telling the truth is a decision that leads us ALL to freedom. The decision to tell the truth about history, to interrogate our own biases and prejudices, to become anti-racist are all part of the Cycle of Liberation. (Harro). As a Division, we'll be talking more about the Cycles of Socialization and Liberation in the coming academic year. Stay tuned.
In the meantime, I thought it was important to talk to members of our community about what a day like Juneteenth means to them. I sat down with BSU co-leads, Shameeka Smalling, Jennifer Larsh, and Ahsabi Monique Burris. I chimed in at the end. Here's what they had to say: