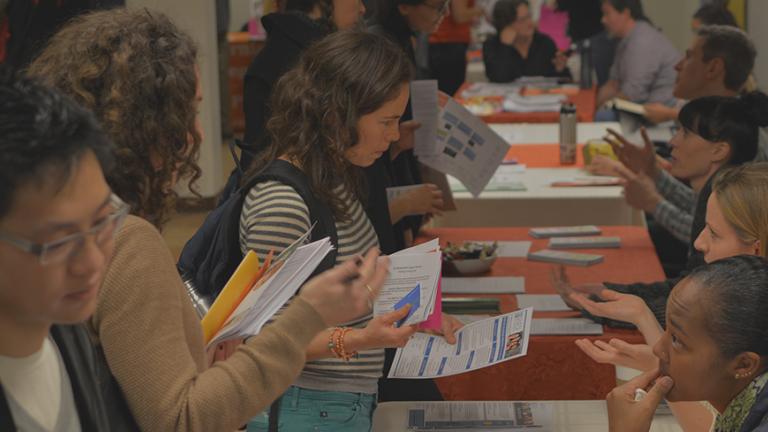 CIIS' Practicum Fair Helps Jumpstart Careers
Counseling Psychology Students Connect With Over 60 Agencies at Annual Practicum Fair
CIIS' Namaste Hall was vibrant with the energy of students from the University's five counseling psychology departments and close to 70 Bay area social service agencies who participated in the 2016 Practicum and Internship Fair.
The Fair, held on December 9th, is an annual opportunity for Bay Area mental health agencies to connect, face to face, with CIIS students who are looking to start their practicum or post-graduate internship.
One year of approved clinical fieldwork experience is required as a part of the counseling psychology degree program. The Fair provided a space for students to network with a variety of agencies including community health centers and hospital and school-based programs.
"Our counseling psychology students are so well received by agency directors at the annual Fair," says Becky McGovern, Director of MCP Field Placement and Clinic Sites.  "CIIS is a major provider of direct mental health services throughout the Bay Area.  We are all inspired by the snapshot the Fair provides of what a smart, resourceful, and diverse community of care we are growing and sustaining."
Students who attended this event reported a great experience. Vivian Augustine, an MA student in the Expressive Arts Therapy department, said she "valued the opportunity to meet folks directly and ask about lived experience at the site," a critical aspect of her decision process.
"What I found most valuable, was getting the opportunity to talk to the representatives at each site," said Samantha Friedman, of the Somatic Psychology department, "and getting to compare each one as I went from booth to booth. I would recommend that all first-year students go check it out," she said. "Even though practicum seems so far away, it will sneak up on you."
CIIS Students: Curious, Eager, Skilled, Community-Minded
For agencies that attend, witnessing CIIS students and their commitment to social justice and community service is inspiring. Representatives from the agencies spoke superlatively of the skill sets that CIIS students bring to their training programs-students who will make up a large number of the Bay Area's future mental health clinicians.
"CIIS students have a solid foundation when they begin practicum," said Christy Vaile of Circle of Care, a program for East Bay Agency for Children. "I value their curiosity, desire to learn, willingness to make mistakes, and interest in social justice."
Many representatives spoke of their appreciation for CIIS students' eagerness, diversity, adaptability, professionalism, and ability to practice self-care.
Self-care is becoming a popular buzzword, particularly following the recent election and the difficulties many communities have recently faced. Some agencies reflected on their thoughts about clinical, community, and personal care in the current climate.
"Self and community care are critical for those of us serving vulnerable populations," said Shelly Ball of the training program at Albany High School, Middle School and Alternative High School. "The beauty of being in a grad school mental health program or a multi-intern program is that we have ready-made supportive groups to help us through our most challenging times."
Ken, a representative from the USF Center for Child and Family Development, echoed the necessity for such support, saying, "Self-care is an absolute priority to being effective in serving one's clients and their families. As mental health professionals, that needs to take place and be standard practice."
Opportunities for Professional Connections
The importance of the professional opportunities and connections that the Fair offers was articulated by Robert Holum, of Stonewall Project. "We live in a time where it is vital yet incredibly challenging to provide high-quality, clinically and culturally attuned mental health services to our communities," he said. "It is imperative that we continue to attract thoughtful, vibrant professionals to community mental health work who can serve our clients with energy, passion, and commitment."
The MCP Field Placement Office supports the clinical training component of the Master of Counseling Psychology Program, which specializes in Community Mental Health, Drama Therapy, Expressive Arts Therapy, Integral Counseling Psychology, and Somatic Psychology.
The Office assists students, faculty, and staff in identifying clinical field placements that are appropriate to academic program requirements, mandates of the California Board of Behavioral Sciences, and students' individual educational goals and interests.
For more information, please contact Gia Stark or Rodrigo X. Caldera at 415.575.6207, or Becky McGovern at 415.575.6117.
Photo credit: Toki Burke & Sasha Solomonov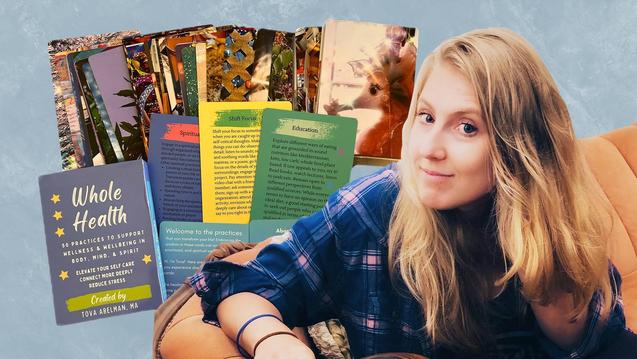 An interview with CIIS alumna Tova Abelman about her recent publication of the Whole Health Card Deck, which helps users connect to six key facets of wellness.