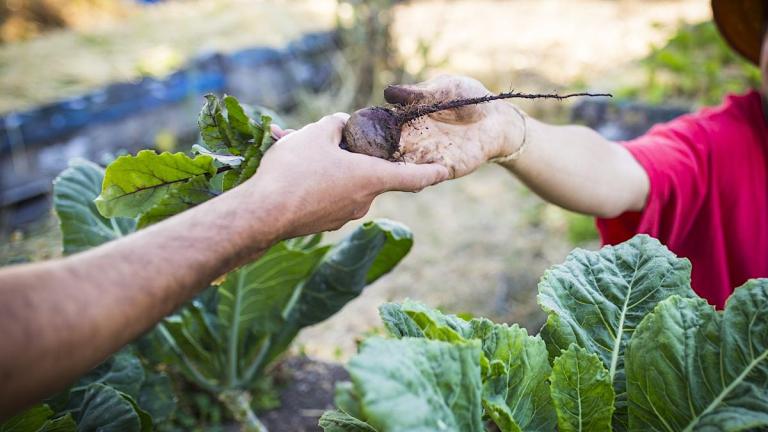 Cultivating Earth-Based Practices for Resourcing & Resilience
Cultivating Earth-Based Practices for Resourcing & Resilience: An In-Person Workshop with Adrián Villaseñor Galarza and Amanda Morrison
IMPORTANT EVENT INFORMATION
This workshop is being hosted in-person only and will not be recorded to maintain the privacy of all attendees.
More information about how to prepare will be sent to registrants in advance, but we encourage you to email publicprograms@ciis.edu if you have questions.
ACCESSIBILITY
If you need to request accessibility accommodations, please email publicprograms@ciis.edu at least one week prior to the event. For more information, explore our Accessibility web page.
EVENT DESCRIPTION
The stirrings felt in the ecosystems of mind and heart are mirrored by the shifting tides on a global scale. The planet-sized challenges that are increasingly the norm of our daily lives—climate change, ecosystem disruption, biodiversity loss, rampant social issues—impinge upon the very foundations of human health and the possibility of a viable future. In this scenario, anxiety and dysregulation, along with a long list of mental health issues, are often the blueprint for societal functioning, governed by the myth of endless progress at the expense of a living planet. Yet the Earth serves as the ever-present ground from which psychological resourcing and emotional regulation can emerge.
CIIS professor in the East West Psychology Department at CIIS and integral ecopsychologist Adrián Villaseñor Galarza and trauma informed psychotherapist Amanda Morrison invite you to slow down and connect with Earth's living body through a contemplative, eco-therapeutic, trauma-informed approach. Adrián and Amanda's workshop is immersed in the beautiful garden of Urban Adamah, an educational farm and community center in Berkeley, California.
Throughout this unique workshop, Adrián and Amanda guide participants in restoring a sense of embodied connection, attentional aliveness, and inner resourcing through a combination of nature reconnection, meditation, group work, and lecture. Participants learn foundational concepts and practices to incorporate into their daily lives or as reference in their contemplative, eco-therapeutic work.
As the body-mind awakens to its Earthly belonging, a shift from reactivity to resourcefulness is activated, bringing about self-regulation, equanimity, and resilience. Together, we cultivate a more contemplative, resourced engagement with self and world by reformulating our conception of Earth as home, healer, teacher, and self.
Adrián Villaseñor Galarza, PhD, is passionate about human transformation in service of the living Earth. He is Core Faculty in the East West Psychology Department at CIIS and Adjunct Faculty at Naropa University. He has been engaged in transformative education for over 17 years and has offered individual counseling for the last nine, based on a contemplative, eco-systemic, animistic, and transpersonal approach. His work is often considered a Latin American referent when it comes to Nature Reconnection, Ecopsychologies, and Earth-based spirituality.
Adrián's an integral ecopsychologist, international facilitator, contemplative teacher, author, and ritualist whose work weaves the psycho-spiritual study of the Earth-human relation, animist principles, and contemplative wisdom. He's the founder and director of the Bioalchemy Institute and the Work That Reconnects Latin America, author of a few books in Spanish and English, editor of the first anthology on the applications of the Work That Reconnects in Latin America, and translator of Joanna Macy's seminal book, Coming Back to Life: The Updated Guide to the Work That Reconnects.
The contemplative and Earth-based lineages of beauty, wisdom, and compassion he has honored since his teens serve as the guiding force behind his service toward personal transformation and socio-ecological viability.
Amanda Morrison, LMFT, MA, is a trauma informed psychotherapist who weaves Earth wisdom and body awareness to help people recover a deeper sense of connection to themselves and the world around them. For the past decade she has specialized in using ecotherapy to help people heal from early childhood trauma and to find long term recovery from addiction and other mental health issues.
Amanda graduated from the Somatic Psychotherapy program at California Institute of Integral Studies and has training in various somatic and ecotherapeutic modalities. She is the creator of the Bayside Marin Ecotherapy Program at the dual-diagnosis residential treatment center located in San Rafael, CA. Amanda also worked in the Insight Garden program in San Quentin, where she facilitated ecotherapy groups for incarcerated men serving time in prison. Currently, Amanda has a private practice in San Francisco and in the East Bay where she sees clients both in the office and on the trails of the East Bay Regional Parks.
In addition to her clinical work, Amanda spent 10 years as an adjunct professor at CIIS, where she taught an experiential ecopsychology course, as well as various other interdisciplinary courses to undergraduate students, with a strong focus on ecopsychology, somatics, and social justice. Her article "Embodying Sentience" was published in the book, Ecotherapy, Healing with Nature in Mind. Amanda is an avid gardener and hiker. Her own daily nature practice keeps her grounded in her body and connected to the land as she navigates these unpredictable but exciting times we are living through.
About Urban Adamah
Urban Adamah is an educational farm and community center in Berkeley, California that integrates the practices of Jewish tradition, mindfulness, sustainable agriculture, and social action to build loving, just, and sustainable communities. They provide training programs, educational workshops, and community celebrations for more than 15,000 visitors annually. Explore Urban Adamah's website.